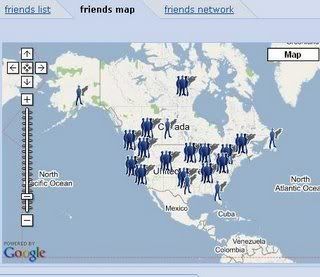 Orkut, a social networking site dominated mostly by Brazilians has added a new feature to its site–Google Maps.
(Orkut Help Page) You can see where all of your orkut friends are located by checking out the new "friends map" feature. This feature combines Google Maps and orkut profiles to let you see where all of your friends live around the world.
Although the feature will be quite useful for businesses using the forums, members may want to adjust their privacy settings as it seems that "any friend" can discover where you live through the map, even if you have not granted them access through your profile settings.

Not everyone using Orkut will be able to use this feature, as some countries have not been added to Google Maps yet.
Google's Orkut team seems to be aggressively adding more features to the site, adding cosmetic features here and there and may even consider adding a future chat program to the site.
Social networking is one arena Google has failed to dominate within America, and Orkut may be introducing these features in an attempt to dominate a field where MySpace is king.